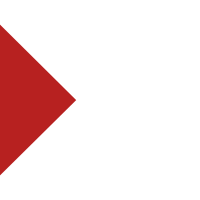 ---

BUILD YOUR IOT CLOUD SOLUTIONS WITH OUR
IN-DEPTH EXPERTISE IN AZURE IOT HUB
IoT cloud platforms are cloud-based middleware software and considered as the 'plumbing' of IoT solutions. They deliver IoT and cloud computing capabilities as a service over an end-to-end platform. IoT cloud platforms provide ready-to-use software components which can be customized to suit your IoT cloud solution with minimal effort.
AZURE IOT HUB CLOUD PLATFORM
Microsoft® announced the availability of its IoT cloud platform, Azure® IoT Hub, in February 2016. Microsoft describes it as "a managed service, hosted in the cloud, that acts as a central message hub for bi-directional communication between your IoT application and the devices it manages". They claim that Azure IoT Hub can be used to build IoT solutions and connect virtually any device with reliable and secure communications between millions of IoT devices and a cloud-hosted solution backend.
Azure IoT Hub provides several cloud services and SDKs to build end-to-end IoT solutions catering to various real-life situations. These services and SDKs empower you to enable IoT for devices, capture device telemetry data on cloud, run near real-time analytics, trigger alerts, and integrate with external applications, store data and run real time anomaly detection or predictions based on machine learning models. Azure IoT Hub cloud platform is metered on the number of operations between the cloud and devices or applications.
Have you selected Azure IoT Hub for your IoT solution?
Connect with us today to rapidly and efficiently build your Azure IoT Hub cloud solution.
AZURE IOT HUB WHITE PAPER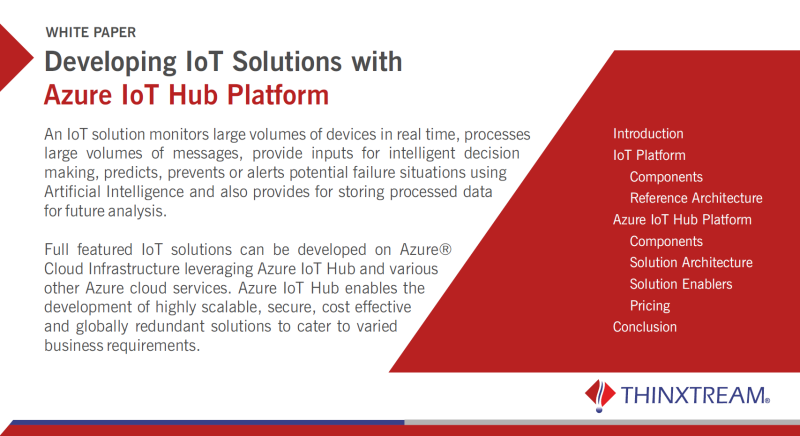 Read our white paper on Developing IoT Solutions with Azure IoT Hub Platform, to learn more about the different building blocks and reference architecture of a typical IoT platform and how the Azure IoT Hub platform realizes them through its managed services.
AZURE IOT HUB EXPERTISE
Thinxtream has extensive expertise in developing IoT cloud solutions for your Connected Products and Smart Services using the Azure IoT Hub cloud platform.
Thinxtream has had a long partnership with Microsoft, and has extensive knowledge in building IoT products and IoT solutions for your Connected Products and Smart Services using their IoT platform, Azure IoT Hub, Azure IoT Edge, and other Azure services. With our deep understanding of the Azure IoT backbone and by leveraging Azure IoT Suite, Thinxtream is able to architect and quickly deliver value-added IoT products and IoT solutions to fulfill your dynamic business and market requirements.
We have built strong expertise in following core services from Azure IoT Hub.
Communications using Messaging, File transfers and Request-Reply methods
Declarative Message Routing for sending device-to-cloud messages to other Microsoft services like Azure Stream Analytics, Azure Functions, Azure Service Bus or Azure Storage account
Integration with Azure Service Bus and Azure Logic Apps for Enterprise Integration and Analytics using tools like Microsoft Power BI®
Device Twins for a query-able store for device metadata and synchronized state information using JSON
Secure communications using X.509 certificates and access control at a per-device level
Monitoring for device connectivity using Operations Log and Activity Log
Device identity management using Azure IoT Hub Identity Registry
Support for AMQP, MQTT, HTTPS, or custom protocols for proprietary devices
Automatic, Zero-touch, Just-in-time provisioning of millions of devices using IoT Hub Device Provisioning Service
Provide geographic context to your location-aware IoT applications with geospatial functionalities using Azure Maps
Field Gateway support for IoTification of low power devices, and devices without internet connectivity
Build solutions using industry-specific application templates from Azure IoT Central
Develop IoT solutions in C#, Java, Node.js, .NET Core, etc. and for various platforms (Linux®, RTOS, Windows®)
Use Azure IoT Edge, a Microsoft IoT service, to analyze device data and run business logic on the devices

Perform time sensitive decisions on device to reduce latency
Provide device management services, protocol translations, and enforce security
Deploy and run trained models from Azure Machine Learning Studio as Docker Containers on the Azure IoT Edge devices
Run Azure Functions and Azure Stream Analytics for real-time processing of incoming data on the field gateway or on the IoT Edge device
Develop business logic in Java®, .Net Core 2.0, Node.js, C and Python™
Build, test and deploy Deep Learning and AI solutions with VS Code extension
Integrate Apache Spark™ Machine Learning Pipelines with Microsoft Cognitive Toolkit and OpenCV library
Deploy Azure Machine Learning model as Web service
Pre-trained models based on Residual Deep Convolutional Networks for Transfer Learning
AZURE IOT HUB CASE STUDY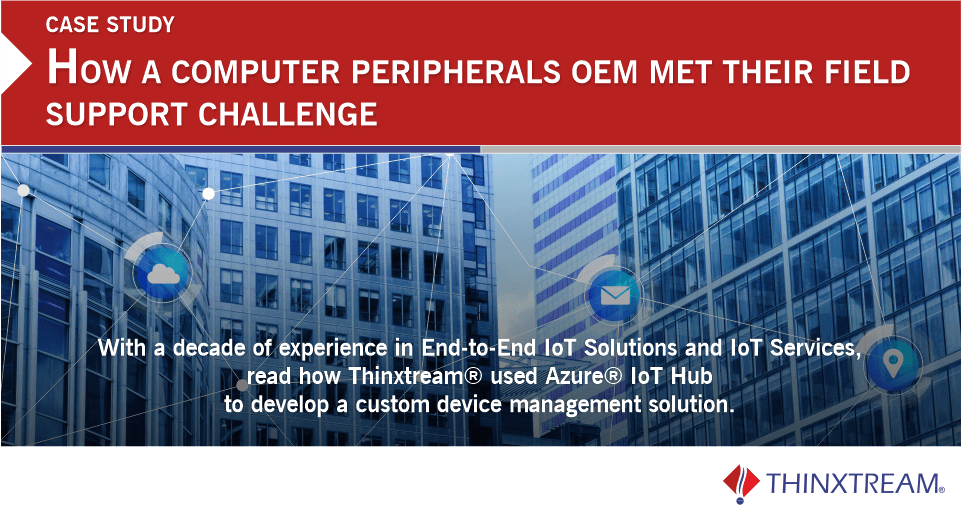 A Computer Peripherals OEM leveraged Thinxtream's IoT Services and our advanced expertise in Azure IoT Hub to develop a Field Support solution. Our solution used the Azure® IoT platform and device twins, associated Azure cloud services such as Azure Stream Analytics, Azure Service Bus, Azure App Service Web Apps and Web Jobs and Azure AD, and associated Azure cloud data services such as Azure Cosmos DB and Azure Storage services. Read the Case Study.
EXPLORE MORE
Interested in discussing your
IoT Solution needs?